Following are reports and frame grabs from our recent travels to capture images for our library.    For more information about our library contents, visit our

Stock Footage Page

.
La Jolla – April 2018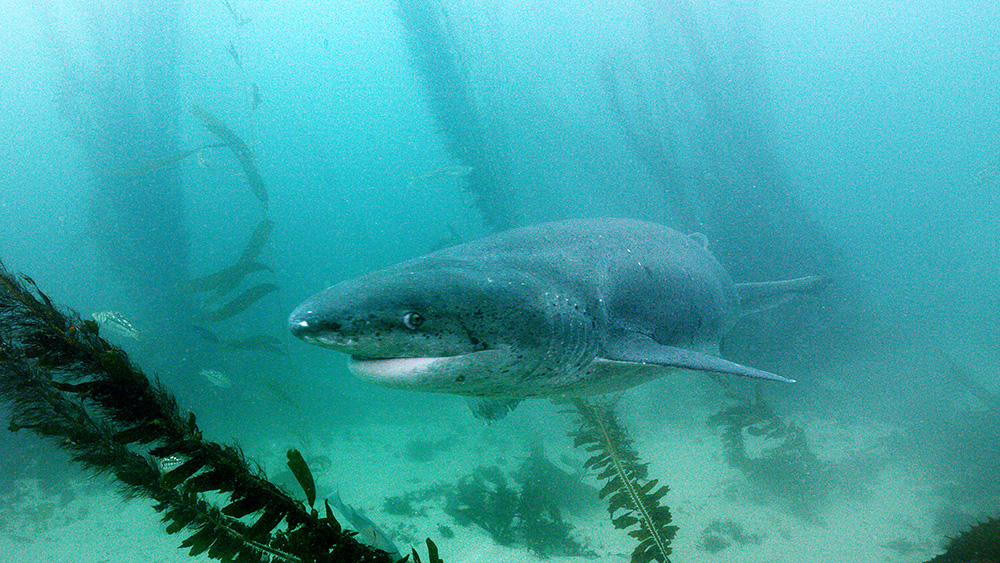 Seven Gill Sharks returned to La Jolla Cove this spring as they have every spring for the last seven or eight years.  Unfortunately, spring diving conditions seldom offer good opportunities to film these animals.  This year we had a short weather window with small swell and just enough visibility to capture a few images.  Divers now take these sharks for granted.  But during my first 20 years of diving La Jolla at least once per week, I never saw a seven gill shark.  So just because they have been around for the last few years, doesn't mean they will be around forever.
La Jolla Canyon – March 2018
I have been diving locally this winter in the process of modifying and testing a new rebreather.  Diving conditions have been poor.  But there have been enormous swarms of Pelagic Red Crabs (Tuna Crabs) covering the rim of the La Jolla Submarine Canyon.  The images are quite spectacular even in 10-foot visibility.  I'm hoping the crabs are still there when the water clears allowing me to capture more of this amazing phenomenon.
Revillagigedo Islands – January 2018
Our first trip of the year was to the Revillagigedo Islands.  We spent ten days aboard the dive boat Belle Amie filming sharks, schooling fish, and giant manta rays.  Conditions were not perfect with a large swell, moderate winds, and gray skies.  But the marine life did not disappoint.  We captured new 8K images of mantas, Galapagos sharks, and spectacular schools of fish.
One disquieting image we captured was a sequence of a manta encumbered with a grossly overgrown transmitter tag.  The growing ball of barnacles was already almost the size of a basketball.  It's impossible to see this and believe tags have no significant effect on marine life.
Local Open Water – January 2018
After several years of being rarely seen in San Diego waters, white-sided dolphins have returned.  At the end of 2017 and in early 2018, we have been making frequent trips off shore in an effort to capture images of these graceful creatures.
Ambon, Indonesia – December 2017
At year's end we spent nearly a month filming in Indonesia.  Our first stop was Maluku Divers Resort in Ambon.  This bay has some of the best muck diving in the world.  Later in the month we flew to Saumlaki where we boarded the Blue Manta for a trip into the Banda Sea.  Since flight connections to Saumlaki must pass through Ambon, most of the people on the Blue Manta trip decided to join us for a week of diving in Ambon before meeting the boat.
The diving at Maluku Divers did not disappoint.  We captured several fascinating behavioral sequences all in 8K resolution.
Banda Sea and Raja Ampat – December 2017
After Ambon we flew to Saumlaki and boarded the Blue Manta for a voyage through the Banda Sea in ending in Raja Ampat.  Water conditions were ideal, especially south of Raja.  Coral reefs were beautiful.
We captured lots of wonderful footage with our new 8K camera including a sequence of convict blennies leaving their den in the morning.
Monterey Bay – November 2017
We returned to Monterey for five days of diving hoping to improve our sea nettle shots and also capture a sequence of rainbow nudibranchs feeding on tube anemones.  I have captured this sequence at the Monterey Breakwater several times for television productions and even for an IMAX movie.  Amazingly, even after 30 years, the anemones and nudibranchs are still there.
Although conditions for filming the jellyfish were no better than in September, we did improve our library with some new Sea Nettle images.
A bonus during our trip was an opportunity to film Molas being cleaned and being preyed upon by sea lions.  Dead and dying Molas were all over the bottom.  In many cases, the sea lions only removed the Mola's fins, leaving them helpless on the ocean floor.
California – September 2017
September was spent close to home filming off the coast of San Diego and as far north as Monterey.  At the end of the month, Peter Kragh and I traveled to Monterey Bay to film the Sea Nettle aggregations.  We were late for good conditions and had to settle on 20-foot visibility.  But even in relatively murky water, the images are amazing.  We plan to return to Monterey for another attempt at the end of October.
Great American Eclipse – August 2017
Michele and I joined a group of friends as we converged on Dan and Betty Orr's home in Driggs, Idaho to witness The Great American Eclipse.  We captured great time lapse images during our ten day road trip.  The rest of August we spent diving locally in California.  Conditions have not been great but we continue to add to our growing 8K library.
California Channel Islands – July 2017
This year our annual California Channel Islands trip was in July.  We were on the Truth Aquatics flagship, Vision with many old friends.  We spent a day at San Clemente Island, a day at Anacapa, and three days at Santa Barbara Island.  Santa Barbara Island was the best I have seen it in years.  Visibility was more than 60 feet and the kelp forests were huge and healthy.  I captured many familiar subjects with the new 8K camera and was especially delighted to film sea lions in the kelp forest.
I also shot the sarcastic fringehead wars again.  This is a hard subject to resist.
Dugongs, Philippine Islands – June 2017
In June we returned to Busuanga having been invited to work with Jonathan Bird for an episode of Jonathan Bird's Blue World.  We once again worked with The Dugong Dive Center.
Normally, we might not have been eager to return to a location after only a few months.  But we enjoyed a chance to work with Jonathan.  We were also eager to begin building our new 8K library.   All subjects and locations are now fair game.  This will be our fourth stock footage library after standard definition, high definition, and 4K.
We had even better luck with the dugongs this trip, and captured great 8K footage of the animals feeding.  We also captured some beautiful reef scenes and a great sequence of green sea turtles feeding on sea grass.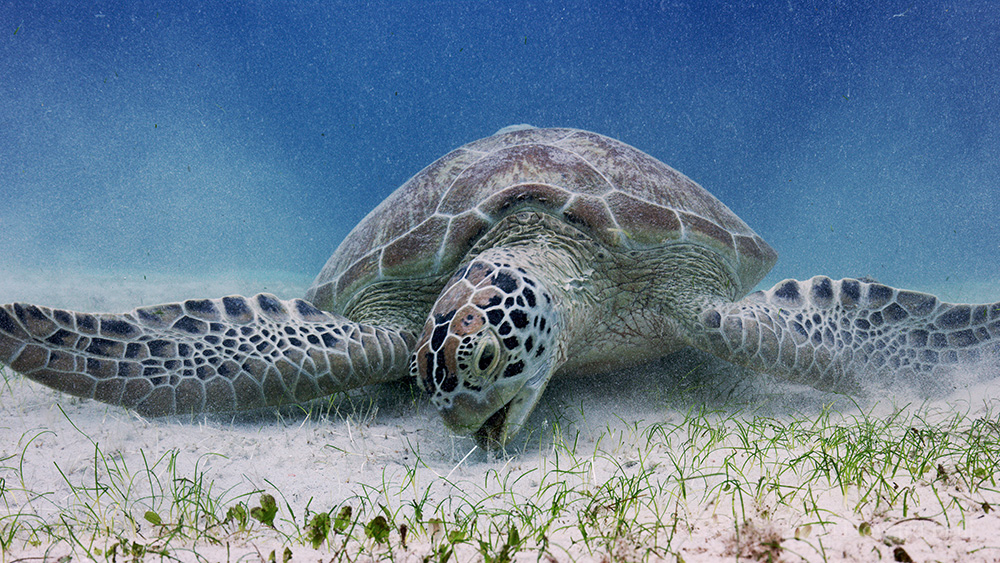 Sand Tiger Sharks, North Carolina – May 2017
In May, we returned to North Carolina where in 2005 we filmed a wonderful sand tiger shark sequence for our IMAX feature Deep Sea 3D.  This time we were joined by filmmakers Jonathan Bird and Todd Kelly, and dived aboard the M/V Atlantis IV.  We were scheduled to dive four days, but only managed two dives the first day before conditions blew up.  However, we did manage to capture first light through our new 8k digital cinema camera.  Capturing a few images of sand tiger sharks was a good way to start our newest super high resolution video library.
Puerto Galera and Dumaguete, Philippines – April 2017
My old friend Marty Snyderman organized a Philippines Expedition with the support of Gordon Strahan of Atlantis Resorts and Liveaboards.  Our expedition was populated by noted underwater photographers, writers, and filmmakers.  We spent a week diving the reefs of Puerto Galera followed by a second week in Dumaguete.  Atlantis has beautiful resorts in both places.
Our guides were invaluable as we spent over four hours underwater each day in our efforts to capture marine life behaviors.  We found dozens of interesting frogfish and managed to capture a sequence of a sargassum fish feeding.  They are extremely difficult animals to film in the wild.  We also filmed green turtles feeding on algae.  This is common behavior in Dumaguete, but it was a sequence that had previously eluded my library.
And we captured great footage of spawning sea stars.  I had only seen this behavior a few times before.  Apparently, seeing it is not uncommon in the Philippines.
San Ignacio Lagoon – March 2017
After more than 30 years, we returned to San Ignacio Lagoon to capture images of grey whales.  We visited the lagoon with Baja Ecotours, which is operated by my friend, Johnny Friday.  We spent several days at the lagoon, venturing out in skiffs to see the whales twice each day.  Little has changed there since my last visit, except that the whales have become much friendlier.  In decades past, we often spent days waiting for a "friendly" whale to approach the boat close enough to film then underwater.  On this trip, we had friendly whales every time we went out.  Getting good underwater images of the animals is still difficult.  Visibility seldom exceeds ten feet and surface chop and rambunctious baby whales make capturing a steady shot problematic.  But it was definitely fun and well worth the trip.
California Open Water – Winter 2017
California offers some of the most exciting diving in the world.  Some of the most interesting subjects are found in open water several miles offshore.  The following frame grabs are from 4k and 5k footage captured this winter.
Kona Hawaii – January 2017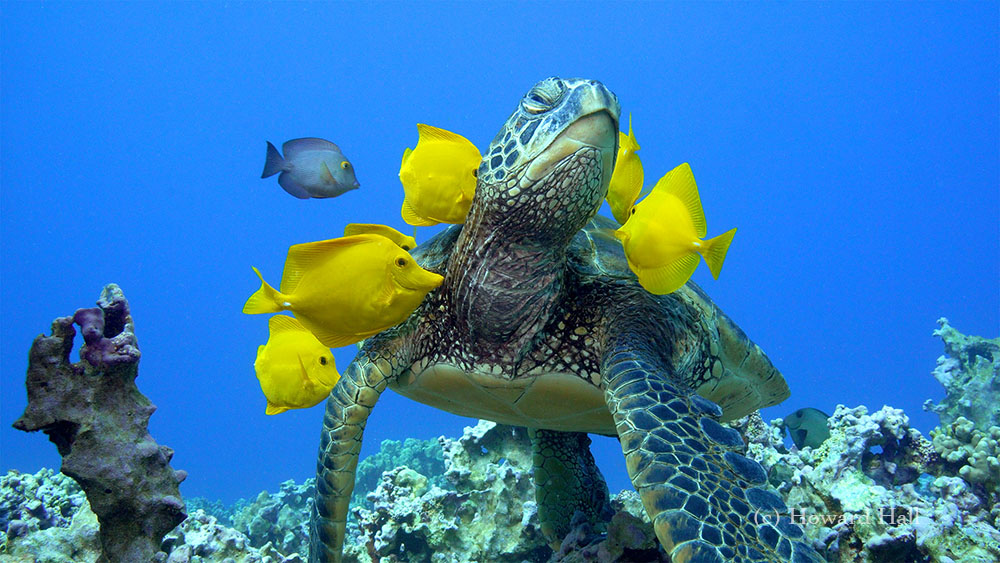 We started off the new year by attending the Waimea Film Festival.  Between showings of our films, we went to sea with Doug Perrine to film green sea turtles being cleaned by reef fish.  I have filmed this sequence in HD and later in IMAX for Deep Sea 3D.  But with the advent of digital cinema video, I have longed to recapture the sequence in 4K.  We had one very good day with the turtles in ideal conditions and I spent three hours working on the sequence.
California Channel Islands – November / December 2016
In late November, a group of friends gathered in Santa Barbara for a four-day trip aboard the Truth Aquatics flagship, Vision.  We spent two days diving at Santa Cruz Island followed by two more at Santa Rosa.  Dave Forsyth and I used our ancient Biomarine 15.5 rebreathers equipped with our newest iteration of electronics, and we both enjoyed an entire trip without any rebreather glitches.  Michele shot still images and I concentrated on video capture macro subjects including blennies, gobies, and nudibranchs.  During the trip, Glen Fritzler and I celebrated our December birthdays (a couple weeks early).  It was a wonderful trip which served to confirm that California diving is some of the world's best.
Sea of Cortez – October 2016
I first went to the Sea of Cortez in 1973, before I considered myself an underwater photographer.  I was 23 years old and a pretty good spearfisherman.  I had been invited to join a Baja Expeditions trip by my good friend Tim Means who had chartered a shrimp boat to take passengers out to the Islands near La Paz.  This was not a diving trip, but I had brought my speargun anyway.  On our first day out we stopped at the north end of Isla Espiritu Santo.  That evening I took my speargun in the water.  I was surrounded by large pargo, or dog snapper, during my first dive.  I picked the one closest to me and shot it.  It weighed 45 pounds.  After landing the first fish, I realized I should have concentrated on the largest fish I saw rather than the closest.  I made another dive and shot a pargo that was much larger.  The fish dived deep into a cave and I lost my spear.   This October I saw no pargo at the north end of Isla Espiritu Santo.
I made several more trips to the Sea of Cortez as a filmmaker in the early 1980s.  I directed three episodes Mutual of Omaha's Wild Kingdom and two episodes of ABCs American Sportsman.   Our primary location for these films was the Marisula Seamount, also known as El Bajo.  In the early-1980s a diver descending to the seamount could expect to find large schools of jacks and tuna, a half dozen or more giant mantas, schools of hammerhead sharks, an occasional whale shark, and often even a sailfish or marlin.  It was a great place to make underwater adventure films.  During one American Sportsman project, Marty Snyderman and my wife, Michele, removed a fishing net from an enormous manta ray.  Having been "cleaned" by the divers, the ray followed us around for four days giving our film's stars, Stan Waterman and Peter Benchley, spectacular rides (well before this was politically incorrect behavior).  During these projects, I would take my 16mm movie camera out off the north side of the seamount and free dive into schools of hammerheads numbering many hundreds.  I remember an old Mexican fisherman telling me that he remembered coming to the seamount and seeing hammerhead shark fins on the surface as far as he could see.  I thought this was typical fisherman's hyperbole.  Now I am not so sure.
In 1991, Michele and I made a one-hour documentary for the BBC and PBS called Shadows in a Desert Sea.  Primarily intended as a marine natural history film, Shadows also became an indictment of overfishing.   A lot had already changed on the seamount since my first dives there in the 1980s.  The manta rays that once characterized the Marisula Seamount were already gone.  We had to move south to the Revillagigedo Islands to find them.  Though reduced in number, the hammerheads, tuna, jacks, and snapper were still there.  But Bob Cranston and I had to use rebreathers in order to film the hammerheads. 
After Shadows, it would be 25 years before I returned to the Sea of Cortez.

This year, Michele and I were joined by Douglas Seifert and Emily Irving aboard the Ambar III.  Owned by Mike McGettigan and Sherry Shaffer, the Ambar III is the vessel we used for over 100 days while making Shadows decades earlier.  One reason for the trip was to return to places we filmed during the making of Shadows and experience the change.  And after not diving the Cortez for 25 years, I found the change stunning.  The pargo I hunted at the north end of Espiritu Santo were gone.  There was only barren rock and small reef fish.  I had been told not to expect any big fish living on the Marisula Seamount.  This was no exaggeration.  Though this was once considered one of the most exciting dives in the world, it didn't justify a second dive during our trip.  No large animals live there now.
Los Islotes, where we filmed sea lions swimming through dense schools of sardines for Shadows, was largely unchanged.  The sea lions were there as were most of the reef fish I remember from 25 years earlier.  Oddly, Cortez Angelfish were missing.   I saw less than a dozen during our three week trip.  The sardines were also gone.  But the sardine schools are an occasional occurrence at Los Islotes.  Last year, Marty Snyderman dived there and the sardines were thick.  However, sardines are now being heavily targeted in the Sea of Cortez and their removal from the base of the food chain is certainly shortsighted.  Los Islotes is now protected from fishing and, though illegal fishing is a huge problem there, this protection may account for my generally positive experience there.  The main change I noticed was a decrease in invertebrate life, which is difficult to explain.
We also visited Isla Ildefonso and Isla Las Animas.  During the filming of Shadows, we dived these two sites to capture the beauty of the Gulf's invertebrate encrusted reefs.  From 25 years ago, I remember dense forests of gorgonian corals in myriad colors, and I remember the great many species of small marine creatures that inhabited this dense growth.  For some reason, this invertebrate life is now gone.  Where I had captured tracking shots through thickets of sea fans and black coral, only barren rock remains.  Dr Enric Sala demonstrated how the loss of top predators in the Caribbean can result in the death of a coral reef.  Perhaps something like that is happening in the Cortez.  Whatever the cause, this was the change I found most disturbing.
Though the desert sunsets over beautiful uninhabited islands are as I remember them from decades earlier in the The Sea of Cortez, life beneath the surface is certainly a mere shadow of its former glory.  It was hard for me to see this change and perhaps, knowing it was happening, is one reason it took me so long to return.  There is hope though.  Mike McGettingan has invested decades, through his organization SeaWatch.org, in finding ways to limit commercial and illegal fishing in the gulf.  But, perhaps, most encouraging was meeting the many young people who are now dedicated to healing the Cortez.  These young people know that the future of the Sea of Cortez is in their hands.
 Busuanga, Philippines – September 2016
In September we were invited by the Philippines Department of Tourism to present our work at the annual Dive Resort Travel show in Manila.  Afterwards the PDT hosted us to a week of diving with the Dugong Dive Center in Busuanga.  We stayed at the very comfortable El Rio y Mar Resort and spent each day out on the water in search of dugongs.  During these six days, we had two days with good encounters.  Dugongs are quite rare and they have long been on out bucket list.  Busuanga is one of the few places on the planet where you can see them with some degree of predictability.
California Channel Islands – August 2016
A trip to the California Islands aboard our old friend, the Conception, has become an annual affair.  We spent five days at Santa Barbara, San Clemente, Anacapa, and Santa Cruz Islands.  We worked on our Sarcastic Fringehead sequence and I shot the amazing threat display in slow motion.
We also captured great images of the brittlestar garden in the kelp forests of Santa Barbara Island.   Some great sea lion images, and octopus footage rounded out the trip.
Palau – July 2016
We spent much of July in Palau.  I was last in these beautiful islands back in 1993 when I served as director of cinematography for the IMAX feature, The Living Sea.  I was pleased to see that the reefs seem to have changed little.  Despite temperatures that sometimes reached 88 degrees, we saw almost no coral bleaching ,leaving us optimistic that Palau may escape the bleaching episode that has damaged so much of the tropical Pacific during this year's El Nino.
During our time aboard Ocean Hunter I, we captured beautiful images of hawksbill and green sea turtles.   We greatly improved our selection of Chamber Nautilus.  And we captured some lovely images of jellyfish.
San Diego – June 2016
Reports of blue fin tuna feeding on anchovy bait balls enticed us offshore from San Diego at the end of June.  Water visibility predictions were terrible.  And the reality was almost worse.  We found multiple bait balls with 100-pound blue fin tearing them up.  But visibility underwater was about 15 feet.  I did manage to get a couple shots of blue fin that are probably not usable.  And I captured a couple nice shots of sea lions hitting the bait.
San Diego – June 2016
Sounthern California has been invaded by Pelagic Red Crabs or Tuna Crabs.  This phenomenon is likely related to the recent El Nino event.  It happens every decade or so.  Red Crabs have washed ashore by the millions in Southern California and have invaded the kelp forests and submarine canyons.  I spent a day filming the swarms off Point Loma.  Water visibility was poor, but the scenes are still amazing.
Arizona – April 2016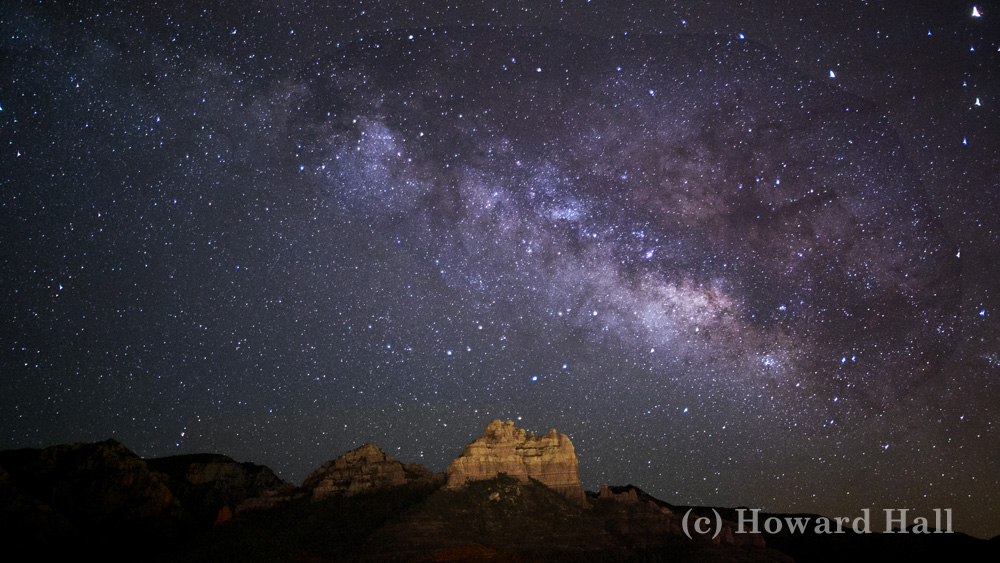 While we waited for spring storms to pass through California and the water to clear, Michele and  I headed out on the road to shoot time lapse sequences.  We followed spring storms through Sedona Arizona and Grand Canyon National Park.  A selection of our resulting video, Arizona TimeScape, can be seen on our Video Demo page.
Raja Ampat, Indonesia – March 2016
We have been to Raja four times in the last few years.  Going someplace new might have made a lot of sense rather than going back to some now familiar diving.  But two things made this Raja trip special.  One was the spectacular new liveaborard dive boat, The Blue Manta.  This was simply the most comfortable liveaboard we have ever been on.  It helped that many of the passengers on board were old friends and the other passengers quickly became friends.
The second big plus was that the trip coincided with a total solar eclipse.  Following is a short video of the eclipse.
Indonesia Eclipse 2016 from Howard Hall on Vimeo.
 Malapascua, Philippines – February 2016
It has been many years since we last dived the Philippines and I hope this is the first trip of many future trips.  We came to Malapascua because it is the only place in the world, that I know of, where one can predictably see thresher sharks.  Sea Explorers has one of their many diver operations on the island.  It is managed by great people (Keith Santillano and Martin Pascabello) and employs excellent guides.  We stayed at Ocean Vida Resort and made the 20-minute run to Monad Shoal every morning at dawn.
According to Keith and Martin, we had poor conditions.  Neither could remember seeing so few sharks in one week.  Still, I managed to capture good images of thresher sharks on three of the dives we made together.  If this was bad luck, then I really need to come back and see what good luck is like!  This is certainly worth another trip.  In over forty years of diving, I have only seen threshers four times and only once was I close enough for a photo (and that was on a 350-foot trimix dive when I didn't have a camera).  It is amazing to me that on an average day you can see several at Monad Shoal as they come in to be cleaned by reef fish.
When not diving with the threshers, we dived the local reef and sand flats.  Lots of good macro to shoot with all the usual muck diving characters.  Besides the sharks, a highlight for me was filming a jellyfish with a beautiful and unusual medusa fish.   I look forward to coming back.
Papua New Guinea Expedition – October 2015
In the Fall, we returned to PNG and the site of one of the most successful filming expeditions during the making of our IMAX feature film, Under the Sea 3D.   Along with our good friends, Douglas Seifert, Emily Irving, and Norbert Wu, we chartered the M/V Golden Dawn and sailed from Walindi Resort on New Britain to Milne Bay.
While covering more than 700 miles, we had the chance to dive many locations that Captain, Craig de Wit, was sure had never been dived before.  Most of the animals we filmed were small exotic creatures.  But we did spend one day with a real monster – a salt water crocodile!  Of course he was hardly full-sized.  In fact, he was only about 4.5 feet long.  Certainly, he could have delivered a nasty bite, but consuming an entire diver would have been unlikely.  The reptile was also kept at bay by a pair of experienced crocodile wranglers.
The real attraction to PNG for me were the small and unusual creatures like this ghost pipefish.  These amazing creatures could be found in myriad colors and textures especially in Milne Bay.
I also improved on my schooling catfish sequence.  We found a large school of these animals at Observation Point in Milne Bay and they were there grinding over the sand on every dive.  I found the video action irresistible.
One of our more interesting encounters was with this huge shrimp goby we found in a terribly silty bay at the northwest end of New Britain.  I am not a fish nerd, but I recognized that this fish was unusual.  It was, by far, the largest shrimp goby I have seen.  I sent frame grabs to Bob Halstead and Gerry Allen.  Both initially thought I had discovered a new species.  In the end, Gerry did find a record of sighting this fish (though very much smaller) in Indonesia.  It remains, however, undescribed.
Great White Sharks at Guadalupe Island – September 2015
In early September we spent a week with our old friends aboard the Solmar V filming Great White Sharks at Guadalupe Island.  Last time we are on Solmar was during the production of Deep Sea 3D when we filmed Humboldt Squid in the Sea of Cortez.  I had almost forgotten what a great boat Solmar V is.
We had three good days filming the sharks in calm clear water.  I greatly improved our stock of White Shark footage during this trip.
California Channel Islands – August 2015
Our five-day trip to the Channel Islands aboard Conception was a great success.  Weather in California, both above and below the surface, can be unpredictable.  But in August the weather Gods smiled upon us.  We spent one day diving at San Clemente Island where we found orange throat pike blennies displaying if full color.  We capture a great sequence of threat displays and mouth-fighting.
San Clemente was followed by a day of diving at Catalina where many on board had great encounters with giant seabass.  I spent most of my time filming sheephead.  Catalina was followed by two days diving at Santa Barbara Island.  There Dave Forsyth and I spent 2.5 hours on our rebreathers waiting for an angel shark to attack a senorita fish.  I almost gave up when the shark finally lunged and I captured the attack in slow motion and in 5K.
Our final day and probably our best day was at Anacapa Island.  We found leopard sharks in shallow water and many on board captured wonderful images of these beautiful sharks.  Michele and I spent hours in three feet of water as groups of sharks swam over colorful algae gardens.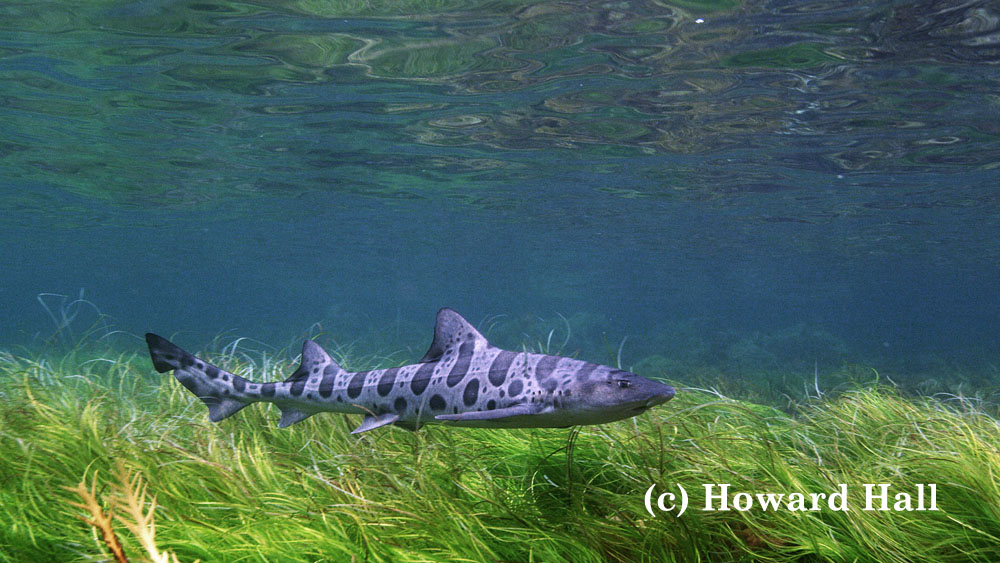 Many other subjects were added to our growing digital cinema library including fringeheads, pelagic stingrays, octopus, and more.  It was a great and productive trip.
Scotland – Basking Sharks – July 2015
This July, Michele and I visited Sunny Scotland.  They have good beer, excellent whisky (Scottish spelling) and often terrible weather.  Our goal was to film basking sharks for our library and to have fun (always a top priority).  The former were elusive.   Our boat, the Bold Ranger, is operated by SeaLifeSurveys.com. It is very well maintained and sea worthy which is nice because wind blew about 25 knots much of the time.  The wind seems to drop to about 20 knots – when it's raining.  It rains a lot.  The owner/captain, James Fairbairns is extremely skilled and competent.
We spent five days on the water and, as is often the case, got all our shots on the last day.  The wind stopped blowing, the sun came out, and I began to understand why so many travelers love Scotland. Michele and I spent nearly 3 hours in the 52-degree water.
Actually, in retrospect, the wind turned out to be a good thing. When it was too rough to head out into the open after sharks, we visited a puffin rookery. We spent two days crawling around on our bellies getting eye to eye with these colorful birds.
After our last day filming the sharks, Michele, Marty Snyderman, Tom Tribble and I began a four day, 50-mile hike on the West Highlands Way.
Many thanks to Sea Life Surveys as well as Big Fish Expeditions for their help making these images possible.
San Diego – Open Water – July 2015
Last year open water opportunities were exceptional.  This season, I have tried to get out as much as possible.  Our luck has not been great, but the season is far from over.  This week we found some especially cooperative fin whales that repeatedly approached for a close look.  Unfortunately visibility was only 35 feet and this greatly compromised out shots.  But I did capture several useful clips – my first fin whale images.
The Giant Mantas of the Revillagigedos – May 2015
It had been almost fifteen years since we last visited the Revillagigedos Islands 300 miles south of Cabo San Lucas, Mexico.  Despite on-going difficulties keeping foreign fisheries away from the Islands, we were pleased to find the giant mantas still gathering at The Boiler near Benedicto, and Cabo Pierce off Socorro.  These cleaning stations haven't changed.  Giant mantas can be photographed as they are swarmed by beautiful and endemic Clarion angelfish.
Several whale sharks were also sighted.  We captured several good clips of one.  Despite gathering a great deal of whale shark footage at Isle Mujeres a couple years ago, I was happy to capture these scenes where the shark is in deeper, cleaner water and surrounded by large jacks.
I was also pleased with the scenes we captured of the giant mantas "flying" over the interestingly sculptured seamount called The Boiler.  These images were welcome additions to a growing library of manta images.
The Sharks of Bega Lagoon – March 2015
After filming the coral reefs of Fiji aboard Nai'a, Doug Seifert, Emily Irving, Michele, and I visited Bega Lagoon where we spent four days shark diving with Bega Adventure Divers.  It had been thirteen years since I had dived with the bull sharks in Bega and much has changed.  There are many more sharks now then there were then.  And the B.A.D. team has perfected a method of attracting the sharks up into the water column providing much better filming opportunities.  At times we had more than 40 bull sharks.
I shot most of my footage using either the Canon 8-15mm lens or the Canon 16-35mm lens.  The sharks were so close and numerous that, at times, the full-frame fisheye was not wide enough.
We filmed the bulls down at 100 feet.  During our ascent, the B.A.D. team had set up feeding stations for gray reef sharks at 40 feet.
During our lengthy safety stops, I would film black-tip sharks swimming over pristine corals.  The B.A.D. team had also set baits at ten feet attracting white-tip reef sharks and black-tip reef sharks.  The black-tips are small but are also one of the most beautiful of the Carcharhinus sharks.  I was glad to add these to our library.
Coral Reefs of Fiji – March 2015
After nearly 13 years, Michele and I returned to Fiji, this time with our digital cinema camera.  We spent a week aboard the S/V Nai'a with some old friends and dived many of the locations we filmed while making the IMAX feature, Coral Reef Adventure.  Back then, the effects of the 1997 El Nino had just devastated the hard corals on Fijian reefs.  Almost all of the hard corals we saw were dead and covered with algae.  During our March 2015 trip, we were thrilled to see Fiji's reef back in full splendor.
We added spectacular coral reef seascapes to our library, often featuring amazing clouds of Anthias fish.
We also captured a variety of interesting behaviors including cleaning behavior and some wonderful shots of butterflyfish feeding on crown jellyfish.
Squid Filming Expedition – December 29, 2014
We spent four days aboard the Truth Aquatics vessel, Conception, as 2014 dissolved into 2015.  Our objective was to film opalescent squid spawning behavior.  Unfortunately, the squid failed to make an appearance at Santa Cruz Island during our trip.  It is likely the exceptionally warm water South California has experienced this fall has delayed the annual spawning event.
Despite total failure to achieve our objective, we has a great time with good friends.  We rang in the new year in the best possible way – diving.  Although we didn't add more 5K squid footage to our library, I did capture a nice assortment of marine life shots including excellent images of large male sheepshead which have returned to the marine protected areas in the Channel Islands.
Most aboard agreed that we should make a Conception squid trip and annual event.
Tiger Beach – December 7, 2014
After filming at Tiger Beach for our IMAX 3D feature, Deep Sea 3D,  almost a decade ago, we have returned to Grand Bahama to capture stock footage with our digital cinema camera.  We're here with Epic Diving and staying ashore at the Blue Marlin Marina where we have good internet.  Hopefully, I can make a few updates occasionally from the field.
Yesterday we had good tiger shark action early, but as soon as the current began moving off the banks, it got a bit murky.  The best shot of the day was done hanging on the dive ladder as dozens of lemon and Caribbean reef sharks swam up the chum line.  The footage looks spectacular in slow motion.
Tiger Beach – December 14, 2014
The last couple days have been amazing.  Conditions were perfect and the incoming tide left water visibility clear through sunset.  Debra and Vin Canabal did an amazing job wrangling sharks for our cameras.  One of their goals is to protect the bait cages from tigers that might otherwise swim off with them.  Despite heroic efforts, however, they lost two bait cages to sharks that were simply insistent.  As I watched as many as eleven large tiger sharks circling us, I thought this could be like diving in the Jurassic.  Monsters everywhere.
In addition to the tigers, we had swarms of lemon sharks and Caribbean Reef sharks.  I did some excellent slow motion while hanging onto the stern of the boat.  It was not easy to hold still with the boat bouncing and the sharks banging into me.
December 16, 2014
I spent my last day on the Bahamas Banks doing my best to ignore tiger sharks.  Instead, I wanted to concentrate on lemon sharks that were being cleaned by remoras.  I believe I was the first to observe this behavior more than a decade ago.  A few years later, I captured a few scenes of remoras inside the mouth of lemon shark.  That was in high definition.  Today I concentrated on capturing the same behavior in 5K.  Finally, in late afternoon one lemon shark cooperated while lying in the shade of the boat.  It was a great way to end the trip.
Mako Sharks – October 16, 2014
We spent several days working the open water of San Diego.  Sharks are increasingly rare here. Thirty years ago, an afternoon of baiting would have attracted an absolute minimum of a dozen blue sharks and often more than sixty.  We have not seen a single blue shark during our last two trips.  We have had fair luck with mako sharks, however.  And yesterday we had shearwaters diving down to gobble up bits of bait.  Seeing birds fly underwater is fascinating.
I captured the images of makos and shearwaters with the new Dragon sensor on my Epic camera.
Sarcastic Fringeheads – August 27, 2014
During our August Channel Islands trip aboard the M/V Conception, we concentrated on capturing video of various California fish species.  At Santa Cruz Island, during our last day at sea, we came across a pair of sarcastic fringeheads.   Males will often confront each other engaging in elaborate mouth-fighting rituals.  I first filmed this sequence for our IMAX 3D feature, Into the Deep, in in 1994.  Since then I have captured the sequence in 16mm for our Secrets of the Ocean Realm Series and in HDCAM for our stock footage library.  During this 2.5-hour rebreather dive, I captured the sequence for the fourth time – this time in 5K.
During the many times I have seen this species argue, I have never seen a pair of fish so aggressive.
More Blue Whales – August 10, 2014
We continue to improve our cetacean images with new blue whale images.  We now have several great shots of this largest animal that has ever lived captured in 5K and in slow motion.
Blue Whales and Other Leviathans – July 2014
We have largely dedicated the summer of 2014 to capturing footage of local marine life.  But filming California's marine megafauna is dependent upon very fickle ocean conditions.  So far this summer, our shark populations seem to be lower than I can ever remember.  This may be because the sharks are elsewhere, food resources are abundant rendering bait less effective, or because the drift gill net fishery continues to annihilate blue and mako shark numbers.  Mola populations are also low, so far this season.  I'm sure this is due to natural population fluctuations though.  In early July, we did find one especially large Mola and Richard Herrmann is seen taking a look in this grab frame.
We had a rare encounter with blue whales this July near Mexico's Los Coronados Islands.  Visibility was marginal for filming such large creatures.  But this was the first time I've had the opportunity to capture a blue whale in slow motion and in higher than HD resolution.
Aerials of the Owens Valley – July 2014
In June, we spent a few days capturing aerials of the Owens Valley and Owens River.  We staged out of the Lone Pine airport where a Search and Rescue operation was underway to find a missing hiker.  After our first day of successful shooting, the Chinook helicopter supporting the operation passed too close to our tied down aircraft and the wake turbulence turned mine over.  Damage was minor but put a stop to our filming.
Flying buddies John Ellerbrock and John Dunham and I did get one very good morning in capturing aerials of the Owens river with my Red Epic camera.
La Jolla Cove – Spring 2014
We continue our California summer concentrating on local marine life.  We still hope for a good few days with the 7-Gill Sharks that frequent La Jolla in spring.  But when the sharks were in this, so far year, condition were not favorable.  In early May Bob Cranston and I found a few days when visibility might permit an improvement in our 7-Gill images.  But the sharks seem to have left for the year.  I'm hoping their absence is temporary and we will have one more crack at them before summer.
Our last trip resulted in no 7-Gill sightings.  But a spectacular giant sea bass circled us for nearly an hour allowing Bob to capture the 150-pound fish in 3d while I captured the animal in 5K.
California Open Water – Spring 2014
This spring we are devoting our diving to capturing subjects in local waters.  Most local species of sharks and marine mammals occurring in local waters are represented in our library, but often only in HD.  So this spring and summer we hope to recapture many of the more iconic local marine life species in 5K and 6K formats.  During our most recent trip we captured blue sharks in 5K and in beautiful slow motion.
We also captured some interesting images of ctenophores in 5K as well as improving out library of Seven Gill Shark images.
While filming seven gill sharks, I noticed a major percentage of the kelp bass in the La Jolla Preserve carried tags.  I am sure the scientists expect these tags to be harmless.  In fact, we are always told by researchers that their tags and transmitters do not harm or hinder the animals they study.  However, I noticed may of the tags on the kelp bass were surrounded by necrotic tissue and were overgrown with algae and other encrusting marine life.  The following grab frame illustrates this.  In a few weeks, this kelp bass will not be able to hunt or evade predators.
Kona Hawaii Expedition – February 2014
After attending Whale Tales in Maui, Michele and I traveled to Kona and boarded the M/V Kona Aggressor for two back-to-back charters.  Both trips were populated almost exclusively with old friends with whom we have dived in the past.  The few new faces that signed up for these trips quickly became members of the same club.  The trips were special in that we were targeting two species that Michele and I hoped to add to our libraries.  First, we wanted to film manta rays feeding on plankton at night.  We did this very successfully when we made our IMAX feature, Deep Sea 3D and we were able to repeat that success on this trip.
Manta rays feed on copepods that rise from the reef, attracted to light.  This migration takes place at night under moonlight, but is concentrated for the mantas by a bright lights we brought and mounted on the Aggressor.
Our second goal was to add Spinner Dolphins to our library.  Each morning our group would join dozens of snorkelers who swam in one of several bays where the spinners rest after a night feeding in the open sea.
I captured scenes of the dolphins in slow motion using my Epic X camera.
Bimini Expedition – January 2014
After filming manatees in Crystal River, we traveled to Bimini to capture 5K video of Great Hammerheads.  Working with Neal Watson Jr. at the Bimini Sands Resort.  Filming these spectacular creatures was easy, safe, and painless.  The site was only a five minute run aboard Neal's day boat.  Water depth was only 20 feet and the sharks never showed up later than a half hour after dropping anchor.
As the week wore on and our hard drives filled with hammerhead footage, bull sharks started showing up.  Capturing images of these massive sharks was a real bonus.   Looking down on Michele as one of these brutes passed close really gave me some size perspective.  Fortunately, the bulls never got aggressive.
An additional bonus, not appreciated by most of the local divers, was the numerous nurse sharks that almost always arrived first on the scene.  Most were rather spectacularly festooned with remoras.
We took one day off from the routine of filming sharks and Neil took us out to the Bimini dolphin grounds.  We found several small groups of Atlantic Spotted Dolphins and one group of bottlenose dolphins.  I was happy to add some slow motion footage to my library of dolphin images.  I was also quite happy when one of the spotted dolphins captured a razor fish right in front of my camera.
Crystal River Expedition – January 2014

We started 2014 with a trip to Crystal River with plans of replacing our HDCAM images of manatees with 5K footage.  We spent three days filming manatees in 5K with our Red Epic camera.  We shot in and over Three Sisters Springs and Hunters Springs.
Santa Cruz Island aboard M/V Vision
Last December we spent four days celebrating Glen Fitzler (owner of Truth Aquatics) and my birthdays by diving in the California Channel Islands aboard the Truth flagship, Vision.  Weather was a bit stormy, but water visibility sometimes approached 100 feet.  Opalescent squid were spawning and we captured rare daytime images of the event in 5K with my Red Epic camera.
Giant Screen Aerial Shooting – October 2013
In October we ramped up for some giant screen film production.  Shooting 5K Epic cameras and full-frame fisheye lenses, we captured underwater images and aerial images for a new dome screen film production.  The above image was captured at sunset deep in the Anza Borrego badlands.  Our Epic 5K digital cinema camera was mounted on our Airborne light sport aircraft as I piloted between mountains of sandstone aglow in evening light.  More underwater and aerial shooting is planned for this winter.
 Channel Islands Kelp Forest Trip – August 24-29, 2013
In August we spent a week aboard the M/V Conception gathering stock footage of the kelp forest and its inhabitants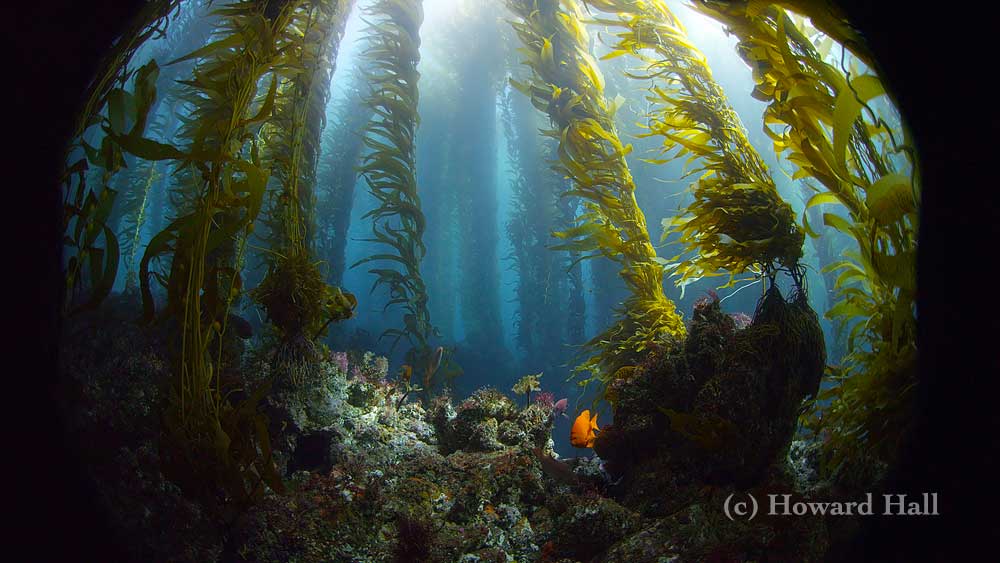 Isle Mujeres, Mexico – July 25, 2013
The end of July found Michele and me on the small Mexican Island of Isle Mujeres.   Among underwater photographers, this place has become famous for two wildlife aggregations – sailfish baitballs in the spring and whale sharks in the summer.